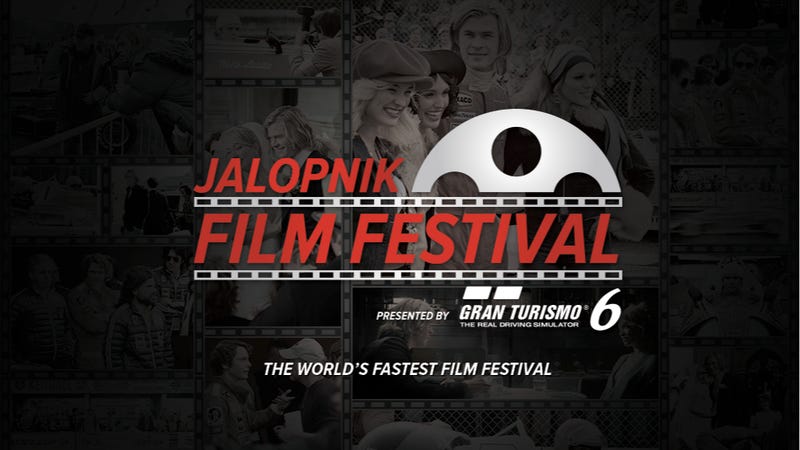 Do you want to see Ron Howard's new F1 epic RUSH before anyone else? What about the rally documentary Easier Said Than Done? Do you want to play Gran Turismo 6 early? Then I'm excited to announce you'll be able to do all that and more at the first ever Jalopnik Film Festival, presented by Gran Turismo 6.
Basically, what I'm telling you is you're invited to experience the biggest meeting of film and car culture in modern history. Maybe ever. There's so much to get excited about I can't even fit it all in one post, so I'm just going to give you a taste so you can put it on your calendar.
A month dedicated to cars and the cinema starts… NOW!
What Is It?
A film festival that only Jalopnik could pull off. A film festival dedicated to cars and car culture. We'll not only show an assortment of important car films we'll also bring you directors, writers, performers, and other people involved in the world of cars and film.
Oh, and there's going to be a giant party at the Manhattan Classic Car Club where you'll get the chance to rub elbows with all those important people.
What Are You Showing?
RUSH
You'll know this as Ron Howard's new film taking on the 1976 Formula One season, starring Chris Hemsworth, Daniel Brühl and Oliva Wilde. It is the movie we're all freaking out about and, thanks to the genuine car people behind the film, we're showing it to the public before anyone.
You're welcome.
Senna
The documentary that moved us all to tears. The film that captivated audiences who'd never seen an F1 race before. The touching and tragic story behind legendary driver Ayrton Senna.
Grand Prix
A romp from a golden age of cinema and F1 starring James Garner, Eva Marie Saint, and a host of actual real life racing drivers. Directed by noted car enthusiast John Frankenheimer, it uses actual racing footage from era.
Easier Said Than Done
Not only is the film an American take on the world of rallying, you all helped fund the film. This will be your first chance to see it.